The NFL announced the complete 2020 schedule on Thursday evening, and the Dallas Cowboys football will kick off their 2020 season on the road against the Los Angeles Rams. Their first divisional game will be at home against the New York Giants in Week 5.
The Cowboys started off strong in 2019, but lost out to the Philadelphia Eagles for the division title. A career year from Dak Prescott might not have been enough to get into the postseason last year, but the 2020 draft has the Cowboys in a great spot. Randall Cobb left in free agency, but Dallas was able to replace him with CeeDee Lamb, who was arguably the top wideout prospect in the 2020 NFL Draft.
A trio consisting of Lamb, Amari Cooper, and Michael Gallup could be lethal. Then there's Ezekiel Elliott in the backfield. Losing Bryon Jones and Maliek Collins on the defensive end is big, but the combination top five receiving corps paired with a top five running back is tough to beat.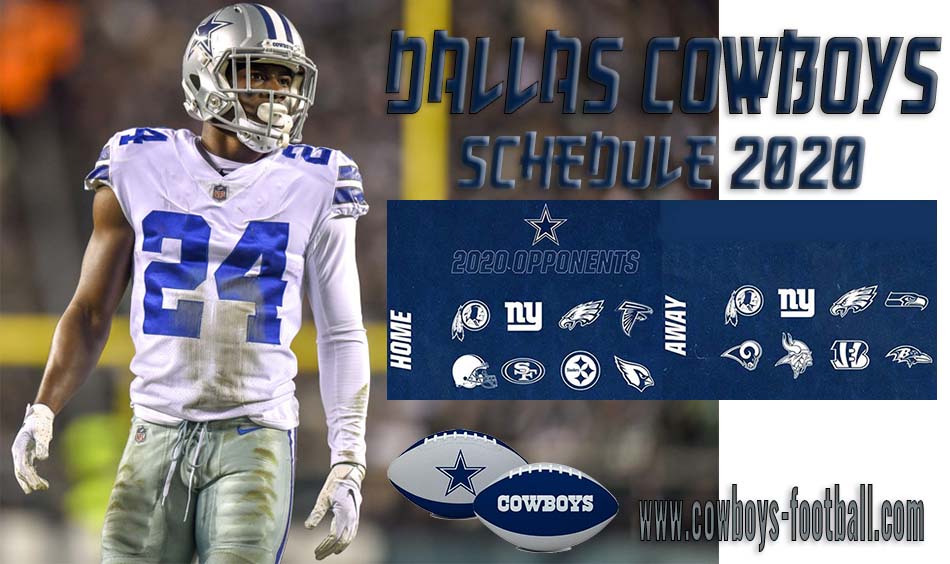 Dallas Cowboys Schedule
Week 1: vs LA Rams 8:20 – p.m., NBC, Sunday Sep. 13
Week 2: vs Atlanta Falcons -1 p.m., FOX, Sunday, Sep. 20
Week 3: vs Seattle Seahawks – 4:25 p.m., FOX, Sunday, Sep. 27
Week 4: vs Cleveland Browns – 1 p.m., FOX, Sunday, Oct. 4
Week 5: vs New York Giants – 4:25 p.m., CBS, Sunday, Oct. 11
Week 6: vs Arizona Cardinals – 8:15 p.m., ESPN, Monday, Oct. 19
Week 7: vs Washington Redskins – 1 p.m., FOX, Sunday, Oct. 25
Week 8: vs Philadelphia Eagles – 8:20 p.m., NBC, Sunday, Nov. 1
Week 9: vs Pittsburgh Steelers – 4:25 p.m., CBS, Sunday, Nov. 8
Week 10: BYE
Week 11: vs Minnesota Vikings – 4:25 p.m., FOX, Sunday, Nov. 22
Week 12: vs Washington – 4:30 p.m., FOX, Thanksgiving Thursday, Nov. 26
Week 13: vs Baltimore Ravens – 8:20 p.m., FOX/NFLN/Amazon, Thursday, Dec. 3
Week 14: vs Cincinnati Bengals – 1 p.m., Fox, Sunday, Dec. 13
Week 15: vs San Francisco 49ers – 8:20 p.m., FOX, Sunday, Dec. 20
Week 16: vs Philadelphia Eagles – 4:25 p.m., FOX, Monday, Dec. 28
Week 17: vs New York Giants – 1 p.m., FOX, Sunday, Jan. 3
Predictions
Week 1: Cowboys vs Rams
I'm predicting a high-scoring game in the grand opening of SoFi Stadium. However, surprisingly enough I think it's a couple of former Rams special teamers (John Fassel and Greg Zuerlien) who help propel the Dallas Cowboys to victory.
Score prediction: 27-24, Cowboys
Week 2: Cowboys vs Falcons
Dak Prescott doesn't have to worry about his blindside protection this time around (no Chaz Green). With ample protection, he carves up the Falcons secondary giving the Dallas Cowboys back to back wins to start the season.
Score prediction: 31-24, Cowboys
Week 3: Cowboys vs Seahawks
The Dallas Cowboys are 2-4 all-time against Russell Wilson since 2012 and unfortunately allow him to extend that streak a little further. Fans or no fans, the home-field advantage gives the Seahawks the slight advantage they need.
Score prediction: 28-26, Seahawks
Week 4: Cowboys vs Browns
This game is a homecoming of sorts for Blaker Mayfield, but unfortunately for him his gunslinger ways work against him this week. Trevon Diggs gets his first INT in the NFL, securing the victory for the Dallas Cowboys.
Score prediction: 27-23, Cowboys
Week 5: Cowboys vs Giants
Jason Garrett's return to AT&T Stadium will be the storyline this week, but it won't be the storybook ending he was hoping for. It may be a slobber knocker kind of game, but the Dallas Cowboys offensive firepower is just too much for the Giants defense to contain.
Score prediction: 31-24, Cowboys
Week 6: Cowboys vs Cardinals
The Cardinals may have gotten Kyler Murray a new toy on offense by trading for DeAndre Hopkins, but it's the Dallas Cowboys WR who gets the last laugh. I predict CeeDee Lamb has a huge game and makes the Cardinals pay for passing on him in the 2020 NFL Draft.
Score prediction: 35-23, Cowboys
Week 7: Cowboys vs Redskins
Three consecutive home games and wins have the Dallas Cowboys in fine spirits when they hit the road to take on the division rival Redskins. Washington's new rookie Chase Young has a chance to be something special, but even he isn't enough to stop the Cowboys high-octane offense.
Score prediction: 30-17, Cowboys
Week 8: Cowboys vs Eagles
Back to back road games against divisional opponents unfortunately gets the best of the Dallas Cowboys in Week 8. The Eagles home-field advantage gives them a slight edge in this matchup, helping them secure a divisional win with a last-minute field goal.
Score prediction: 23-20, Eagles
Week 9: Cowboys vs Steelers
2016 was the last time these two teams played and it took a last second 32 yard TD run by Ezekiel Elliott to secure the Cowboys victory. This time around Zeke's the decoy, allowing Tony Pollard to be the hero on a well executed double screen he takes to the house.
Score prediction: 34-30, Cowboys
Week 10: BYE WEEK
The Dallas Cowboys enter the much needed bye week with a 7-2 winning record and a chance to rest up before the most difficult part of their 2020 schedule kicks off. This is the latest they've had their bye week in quite some time, although the timing of it could be ideal considering the teams they face in the upcoming weeks.
Week 11: Cowboys vs Vikings
Coming off their bye week, the Dallas Cowboys start the toughest part of their schedule, playing three games in 12 days. First up is the Vikings on the road, a team that ran all over them last year. I'm predicting another close game, but one where Minnesota just barely squeaks by for the win.
Score prediction: 26-24, Vikings
Week 12: Cowboys vs Redskins
You may end up with an upset stomach Thanksgiving, but it won't be because of the Dallas Cowboys like last year. I doubt Washington has much to play for at this point in the season and could be tanking for their next franchise QB. Mark it down…I'm predicting a sweep!
Score prediction: 28-13, Cowboys
Week 13: Cowboys vs Ravens
Baltimore is a Super Bowl favorite and the toughest team the Dallas Cowboys will face in 2020. They are able to control the clock with the running game leaving Dallas with very few opportunities to put points on the board. It's a close game, but one that favors the hometown team just a little too much.
Score prediction: 17-13, Ravens
Week 14: Cowboys vs Bengals
Andy Dalton gets to see what it's like being on the opposite side for a change as he watches the Dallas Cowboys completely dominate the Bengals. This should be as close to a cakewalk as the Cowboys have on their entire schedule this year. Can you say shutout?
Score prediction: 27-0, Cowboys
Week 15: Cowboys vs 49ers
Super Bowl curse? That's what I'm predicting. I don't think the San Francisco 49ers will play at the same kind of high-level like they did last year. With home-field advantage and the ability to outscore their opponents, I think the Dallas Cowboys get the best of the 49ers in this matchup.
Score prediction: 27-23, Cowboys
Week 16: Cowboys vs Eagles
The Eagles were barely able to get the best of the Dallas Cowboys earlier in the season, but this late-season matchup won't go their way. Carson Wentz is likely banged up again and the Cowboys have the home-field advantage to give them the edge they need to lock up the NFC East division.
Score prediction: 31-24, Cowboys
Week 17: Cowboys vs Giants
If my predictions are correct, the Dallas Cowboys have already locked up the NFC East division and secured a first-round bye. Mike McCarthy, unlike Jason Garrett, decides to rest a lot of his veterans for what he hopes is a Super Bowl run. The Giants have a hard time even against backups, but they win in the end.
Score prediction: 19-17, Giants