The Cowboys play in the NFC East, but there's definitely a Southern feel to their 2018 schedule. Dallas will face all the teams from the NFC and AFC South, adding five 2017 playoff teams to the slate in addition to Super Bowl-champion Philadelphia twice.
The combined record of the Cowboys' opponents is exactly .500, at 128-128 last season, putting them in the middle of the pack in unadjusted strength of schedule. Here's breaking down Dallas' schedule this year and what it means for the team's chances of making the playoffs for the third time in five seasons.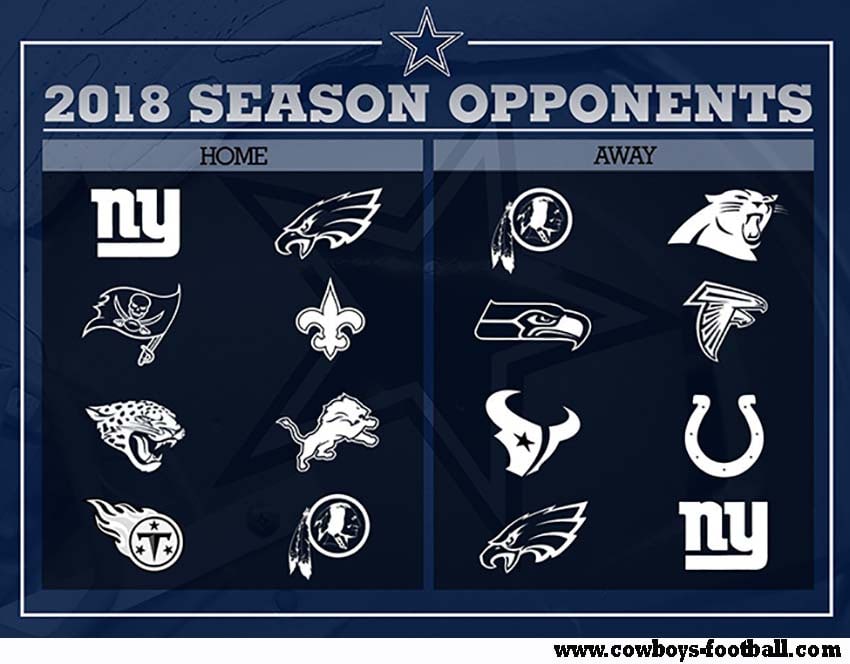 Cowboys schedule 2018

Date
Opponent
Kickoff time
TV network
Sept. 9
vs Carolina Panthers
4:25 p.m.
(FOX)
Sept. 16
vs New York Giants
8:20 p.m.
(NBC)
Sept. 23
vs Seattle Seahawks
4:25 p.m.
(FOX)
Sept. 30
vs Detroit Lions
1 p.m.
(FOX)
Oct. 7
vs Houston Texans
8:20 p.m.
(NBC)
Oct. 14
vs Jacksonville Jaguars
4:25 p.m.
(CBS)
Oct. 21
vs Washington Redskins
4:25 p.m.
(CBS)
Oct. 28
BYE
Nov. 5
vs Tennessee Titans
8:15 p.m.
(CBS)
Nov. 11
vs Philadelphia Eagles
8:20 p.m.
(NBC)
Nov. 18
vs Atlanta Falcons
1 p.m.
(FOX)
Nov. 22
vs Washington Redskins (Thanksgiving)
4:30 p.m.
(FOX)
Nov. 29
vs New Orleans Saints
8:20 p.m.
(FOX/NFLN)
Dec. 9
vs Philadelphia Eagles
4:25 p.m.
(FOX)
Dec. 16
vs Indianapolis Colts
1 p.m.
(FOX)
Dec. 23
vs Tampa Bay Buccaneers
1 p.M.
(FOX)
Dec. 30
vs New York Giants
1 p.m.
(FOX)
Analysis
Following a great rookie season in 2016, quarterback Dak Prescott took a step back in his second year with the Cowboys.
The numbers were still solid for Prescott, who threw for 3,324 yards with 22 touchdowns and 13 interceptions, but Pro Football Focus had him at or below average in six different passing categories:
Dak was 💰 against the blitz in 2017 pic.twitter.com/zubDG0thGN

— Pro Football Focus (@PFF) January 16, 2018
Adding Hurns gives Prescott another option at wideout, along with Terrance Williams and Cole Beasley. They released Dez Bryant earlier this month, leaving Hurns as the main option for Prescott in the passing game.
On the defensive side, the Cowboys ranked in the top 11 in pass and rushing yards allowed. They finished tied for 13th in points allowed, including holding each of their last five opponents to 21 points or less.
Lawrence, who had a career-high 14.5 sacks last season, is the star that will carry the Dallas defense as far as it will go in 2018.
Owner Jerry Jones always sets sky-high expectations for his franchise, but this was an offseason in which he didn't try to spend money just for the sake of adding marquee talent.
Toughest tests: Games against the Eagles, Jaguars and Saints mean the Cowboys will face three division winners in AT&T Stadium. None will be intimidated by Jerry World. Between those and the Titans game, the Cowboys finishing above .500 at home will be a challenge after last season's 3-5 mark.
Biggest breaks: There's not much far interdivison travel, save for the trip to Seattle. The Cowboys also will be in familiar domed conditions in Atlanta, Houston and Indy. Dallas probably won't go 6-2 on the road again, but there's nothing close to brutal on the road.
Bottom line: The Cowboys are built to remain an inconsistent team, and their schedule is more difficult than what the overall numbers indicate. The offense and the defense are both in transition, and Dallas is bound to play in a ton of close games. The Cowboys will be half underdog, half favorite over 16 games. Ezekiel Elliott and Dak Prescott will do their thing together again, but their help will be streaky. Record prediction: 8-8