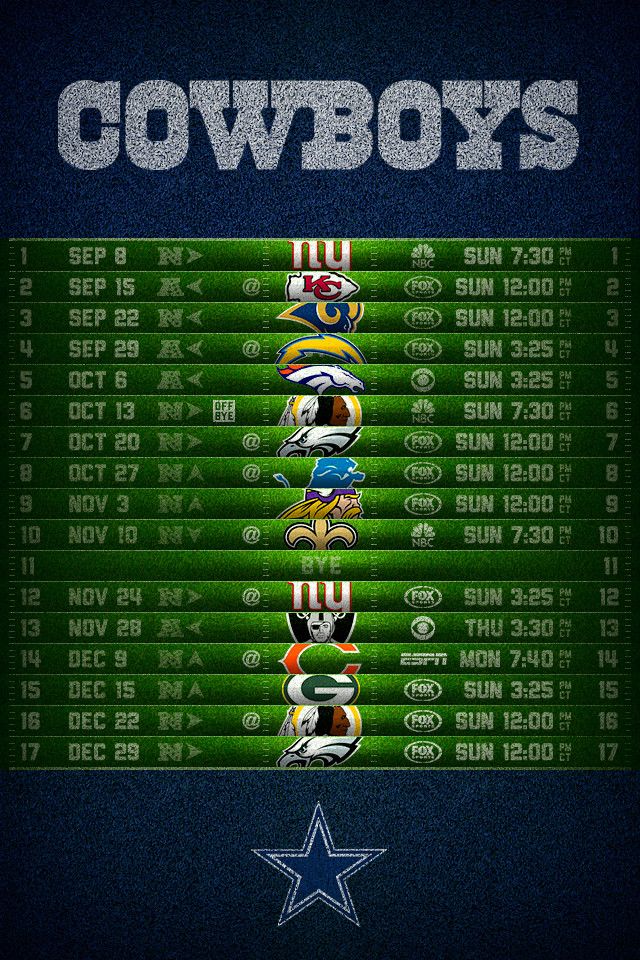 The Cowboys will open the season Sept. 10 against the New York Giants at AT&T Stadium in Arlington, Texas in a game that also will serve as their NFC East opener.
The Cowboys will play the Washington Redskins in their NFC East road opener on Oct. 29.
The Cowboys will have their bye week Oct. 15 between the Green Bay Packers (Oct. 8) and at San Francisco 49ers (Oct. 22) games. They will close out the regular season at the Philadelphia Eagles on Dec. 31.
Game times/dates for Weeks 5-17 games are subject to change.
The Super Bowl will be played at U.S. Bank Stadium in Minneapolis, Minnesota.
2017 Dallas Cowboys schedule
Sept. 10: New York Giants (8:30 p.m. ET, NBC)
Sept. 17: at Denver Broncos (4:25 p.m. ET, FOX)
Sept. 25: at Arizona Cardinals (8:30 p.m. ET, ESPN)
Oct. 1: Los Angeles Rams (1 p.m. ET, FOX)
Oct. 8: Green Bay Packers (4:25 p.m. ET, FOX)
Oct. 15: BYE
Oct. 22: at San Francisco 49ers (4:05 p.m. ET, FOX)
Oct. 29: at Washington Redskins (4:25 p.m. ET, FOX)
Nov. 5: Kansas City Chiefs (4:25 p.m. ET, CBS)
Nov. 12: at Atlanta Falcons (4:25 p.m. ET, FOX)
Nov. 19: Philadelphia Eagles (8:30 p.m. ET, NBC)
Nov. 23: Los Angeles Chargers (4:30 p.m. ET, CBS)
Nov. 30: Washington Redskins (8:25 p.m. ET, NBC/NFL Network)
Dec. 10: at New York Giants (4:25 p.m. ET, FOX)
Dec. 17: at Oakland Raiders (8:30 p.m. ET, NBC)
Dec. 24: Seattle Seahawks (4:25 p.m. ET, FOX)
Dec. 31: at Philadelphia Eagles (1 p.m. ET, FOX)
Preseason
Aug. 3: Arizona Cardinals (Canton, Ohio; 8 p.m. ET, NBC)
Aug. 12: at Los Angeles Rams (9 p.m. ET, NFL Network)
Aug. 19: Indianapolis Colts (7 p.m. ET, NFL Network)
Aug. 26: Oakland Raiders (8 p.m. ET, KTVT)
Aug. 31: at Houston Texans (8 p.m. ET, KTVT)
Other Posts :